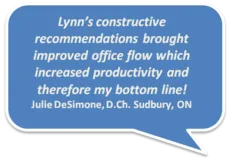 Lynn knows that the value of the staff role is critical in terms of increasing the professionalism, proficiency and profitability of a practice. She states, " If given the proper tools, motivation, training, management and environment, I believe that the single, greatest asset in [your] practice is [your] staff. If you're thinking I'm prejudiced in that regard, I am; but I am also a person who's been there, done that and because I was always treated fairly, the effort I put into my "job" never felt like "work. "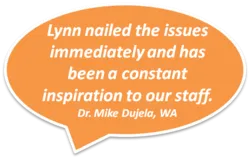 It is here, in developing and retaining staff to the point of their optimum productivity, that Lynn's passion and focused expertise lies. After identifying and addressing any potential critical areas of breakdown in offices; she then works one on one with office teams by using sensible solutions including action plans, well-designed tools and turnkey training and management techniques .
Her results are proven by clients all over the US and Canada.