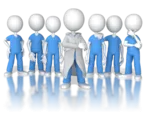 Step it up #65: Poor leadership comes with a price; namely, hours spent correcting mistakes, money wasted on unproductive performance, costs associated with high staff turnover, wasted talent and potential by failing to match the right people to the right jobs - just to name a few. Successful leaders know that dedicating adequate time, energy and resources on "people management" (read: their employees) makes good, all around business sense.
---
Step it up #64: The best thing doctors/managers/employers can do to motivate their staff is create the environment whereby self-motivation can thrive…and so too will job satisfaction.

---

Step it up #62: Did you know that dissatisfied customers will tell, on average 9-15 people about their bad experience and 13% tell more than 20 people?! Maybe it's time to re-visit your customer service policies and avoid any potential "bad press." Initiate a patient satisfaction survey and learn what you can do better from the very ones you aim to please!
---
Step it up #61: Working with a negative person? It's like working with a black cloud hanging over your head. They can dismantle work, increase stress, and cripple productivity if you let them. They're hard to ignore, but don't give in. Instead, take charge, BE an example for positive change and remember…no one can bring you down except you.
---

Step it up #57: Conflict at work? Face it head on! No one ever said it was easy, but nothing will ever get resolved if you bury your head in the sand. Better to resolve it…than win it! Identify the problem & what is happening as a result of it, apologize for your part, appreciate that you need to move forward and set an action plan for the best outcome.
---
Step it up #56: Doctors/managers/employers…it's important that you make sure you explain the IMPORTANCE of doing things a certain way because without the whys and wherefores of proper instruction, employees/staff will most likely do it the way they THINK it should be done and the outcome may be far from what you expected.
---

Step it up #55: Is your disciplinary policy intact? Generally speaking, employees don't go from good to terrible overnight; it's more of a steady decline and ignoring poor behavior is in fact poor management. Proper discipline involves proper documentation, right from the verbal warning. Remember...if you never documented; it never happened.
---

Step it up #52: Do you think like a leader? If you do, you know that mistakes help you and others learn; you focus on building the skills of those around you; you listen, communicate and help solve problems and you serve as a shining example.
---
Step it up #51: Do you have enough staff working on Accounts Receivable? The revenue you lose by assigning this to your receptionist (who is distracted by a multitude of other tasks) is often much higher than hiring another staff person who will dedicate the necessary number of hours to getting it done effectively.
---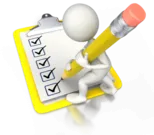 Step it up #30: Procrastination is like a dirty dish. The longer you leave it unwashed, the harder it is to clean and the less you'll even want to try! To keep procrastination under control, try keeping a daily "To-Do" list. Besides it helping to keep your tasks organized, prioritized and broken down into smaller, more manageable components, you'll be encouraged by your progress as you cross off each accomplishment. 1) Do it today. 2) Tomorrow will be today tomorrow!
---
Step it up #28: If "to err is human", then maybe the next time someone makes a mistake, the teaching question will be "how can we make sure this doesn't happen in the future?" as opposed to "WHAT WERE YOU THINKING?!"
 
---
and be the first to see our newest "Step it Up" entries!