Are your Staff Meetings as productive as they SHOULD be?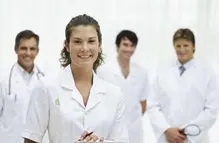 Want to make them BETTER ?
What is the Interactive Staff Meeting?
One of the biggest complaints about staff meetings is that they tend to be a "waste of time." Issues are discussed and maybe even goals are set, but many times, there is little or no follow through. It doesn't have to be that way!
With the help of new technology, we have developed the Interactive Meeting which will allow us to remotely participate in your staff meetings, help you develop your goals through written action plans and then guide and direct you during the critical phase of "follow-through." By conducting private monthly staff meetings with just YOUR office, all participants will be held accountable to ensure that actions set during the meeting can and will materialize. Everyone from the office is invited at no extra charge and doctors are encouraged to sit in as well to help keep the momentum strong.
One 45-60 minute session will be held monthly. An agenda will be requested from the office, so we can focus on the items that are important to YOU! Lynn will then moderate discussions with staff (and doctors) who may use this time to follow up with plans, ask questions or conduct an open forum for unique or general problem solving and advice.
Post meeting minutes are prepared and distributed to all call participants to keep us on track from meeting to meeting. The choice is yours! Sit together as a group or have private sessions with specific individuals to discuss and iron out particular problems...
Help does not end with the video conference or phone call! In addition to our monthly session, all staff and/or doctor are entitled to unlimited email correspondence which will allow you to keep the doors of communication open. All emails are answered promptly; generally within 24 hours.
How does this program work?
The SOS Interactive Staff Meetings are conducted using Skype, a free web-conferencing program (see set up instructions below) or just with the conference feature on your phone. If you sign up for 6 month subscription, you will be sent a FREE Logitech video-cam to get you started!
After you sign your office up, we will schedule a date and time once a month to conduct our sessions and through VOIP technology, we will interact as a group, just as if we are all sitting in the same room together.
The fee for a one 45-60 minute monthly group session is $150
Click on Interactive Staff Meeting Registration Form to register. Join the many successful offices who take advantage of this unique SOS program. Questions? Call 1.866.832.6767 or email Lynn directly at [email protected].
Hope to "SEE" you soon!
Skype Set Up Instructions:
Skype is a popular free online video conferencing tool. If you have a web cam and a microphone, you can conduct a free video conference with anyone anywhere in the world.

To get started using Skype, simply follow these steps:

Go to www.skype.com


Click "download skype" and install it on your computer




If the program does not automatically run as you hit install...there is a place on the page that will tell you to "click here" to start




When the "box" appears on your screen, click "run" both times




Choose English (it is the default)




Click "yes" on the following screen




I do not suggest adding the google toolbar, so uncheck the check mark by clicking on it so it disappears




It will prompt you for your (first/last) name and a screen name and password. I recommend using the name of your practice for the screen name...You can set any password your choose




9. The system will then process and you will be set up on Skype.